Woven Threads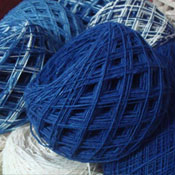 Woven threads is a design initiative to encourage the women of Nagaland to sustain their roots by preserving the unique tradition of weaving, while giving them wings of creativity and aspiration and providing a platform to support and mentor young weavers.
Woven threads started its first warp in November 2014 with a single weaver, with many more joining along the way. Today our weavers are located in all parts of Nagaland. Because of the flexibility that the loin loom offers, weavers are able to weave from their homes and continue to practice vital seasonal farming activities such as paddy cultivation.
At Woven Threads we abide by the traditional ethos of fabric making that our forefathers have practiced down the ages. Therefore, most of our products are not only hand woven, but also hand seamed. The fabric used is off the loom, with minimal, and where possible, zero wastage.
We are proud to create contemporary textiles that pass through our hands, but they will spend much more time in the lives of our customers, proving that the hard work behind them has been worthwhile. Four words that sum up our products – contemporary, minimal, style and comfort. We love what we do, and we share our love with you.